PRESS RELEASE: Gilbert J. Munoz, CPA Awarded 2013 Top Practitioner Honor by American Society of Tax Problem Solvers
Munoz & Company, CPA
Phone: (813) 425-1916
Address: 3705 N Himes Ave, Tampa, FL 33607
Web site: http://tax-resolution-tampa.fl-biz.com/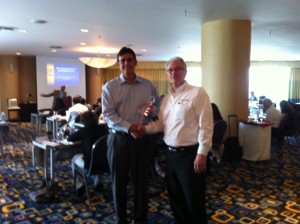 Gilbert J. Munoz, CPA, has been awarded the American Society of Tax Problem Solver's Top Practitioner honor for 2013. Given in recognition of his exceptional achievements in the field of tax resolution and representation, this award was presented by ASTPS National Director Lawrence M. Lawler at the 2013 Advanced Seminar in IRS Tax Problem Resolution, held in San Diego, California, June 6-8.
Munoz is the founder of Munoz & Company, CPA, a tax resolution and preparation company based in Tampa, Florida. He has been in the tax services industry since 1982 and has been an active member of the ASTPS since 2010. His participation in this tax resolution membership group has further added to his high level of skill, knowledge, and professionalism in the area of tax representation. He is also a member of the American Institute of CPAs, the AICPA Tax Section, the Florida Institute of CPAs, and the Tax Problem Resolution Services Coalition (TPRSC).
"I'm proud to be recognized by the ASTPS for my work in tax resolution services," states Munoz. "I'm committed to helping Tampa-area taxpayers with tax preparation, audits by the IRS, and other tax problems. I'm thrilled to receive the Top Practitioner award as a result of that dedication."
Headquartered in Williamsville, New York, the American Society of Tax Problem Solvers (ASTPS) is a national, not-for-profit organization of professionals who specialize in representing taxpayers before the IRS. This membership organization provides education, certification, and additional resources to assist tax consultants in best representing their clients before the IRS.
Led by owner Gilbert J. Munoz, Munoz & Company, CPA, is a tax help company specializing in tax resolution and tax preparation services in Tampa. Munoz & Company, CPA provides assistance for both individual and business tax problems.